Looking for a Property Manager in Firestone?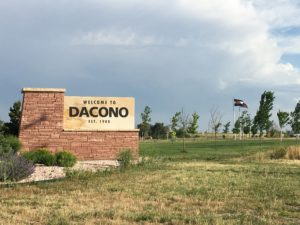 Firestone and Frederick are two neighboring communities in Weld County, Colorado. Both Firestone and Frederick are home to small populations hovering around 10,000 residents. Located directly north of Denver, many residents are drawn to Weld County due to its proximity to the capital. In spite of this, those who live in the area still enjoy the charm of small town life.
Once home to thriving coal mines, today both Fredrick and Firestone are largely residential areas. Frederick has nearly doubled in size over the past decade, while Firestone saw a 432 percent population increase between 2000 and 2010, making it the fastest growing locale in all of Colorado. Naturally, these growth patterns have contributed to the rising housing needs of Weld County.
Investing in Local Real Estate
A number of mixed-use and residential housing developments in Frederick and Firestone have broken ground in recent years. These developments largely cater to the influx of new residents in the area. Many investors have purchased rental units as a means of generating longterm income.
While Weld County's promising population growth shows no sign of stopping anytime soon, it's still important for local investors to find the right property manager in Firestone or Frederick. At Dakota Property Management, we've helped countless homeowners across Metro Denver to get the most out of their properties.
Why Choose Dakota Property Management?
If you're on the hunt for the right property management in Firestone, Dakota PM's long history make us a natural choice. Not only do we understand the local market, but we offer a competitive alternative to traditional property management fees. Our flat-rate structure allows you to better anticipate monthly expenses and get away from the percentage-based pricing model. Ultimately, this translates to more money in your pocket.
Ready to learn more? Call us today to get a free rental analysis and speak with a local property expert: (303) 759-4340
Why Choose Dakota Property Management?
Increase Your Income
Lowering vacancy rates and owner expenses is our job. Let us help you increase your income from your real estate investment and save you time and money all for a low flat rate.
Flexible Maintenance Options Save You Money
Many local owners want control over maintenance costs by using their own vendor contacts or doing the work themselves. Our state of the art management software allows owners to be involved in the maintenance approval process. Use your own vendors, do-it-yourself, or choose from our reputable vendor pool.
Our Flat Fee Pricing Makes Us Affordable
We don't work on a commission-based pricing structure. With our flat fee pricing of $115/month there's a significant savings over traditional management fees (typically 40%-60% savings). We offer affordable full-service property management.
You Won't Find a More Experienced Firm
Plenty of property managers make big promises, but our successful track record stretches back decades. We've maintained an A+ BBB rating since 1987, and three generations have kept our family-run business at the top of its class.
We Have the Happiest Clients
Our team works to guarantee satisfaction.
If you are looking for excellent customer service, high business ethic, and an overall excellent experience with a property management company look no further.
Dakota Property Management excels at treating all tenants, property owners and maintenance contractors involved as customers. All parties have accountability to their roles, with an overall very professional experience at a very fair cost. We have had horrible previous....
- Dan Rogers Wow-ed From the First Meeting
"Ann is honest, upfront and willing to work with owners. I am constantly impressed with how easy it has been working with Ann regarding my rental property."
 - Bonnie F. Quick & Attentive Responses
"I have worked closely with Jason Reed and her team recently and I truly believe they are revolutionizing the property management industry with their flat rate fees."
 - Shelby F.
Comprehensive answers to your property needs.
Tell us About Your Property
Wondering if we can help? Get started today: