Need a Boulder Property Manager?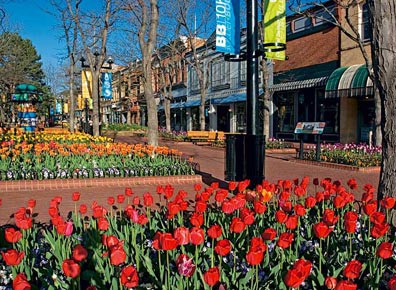 Home to a metro population of some 300,000 residents, Boulder is a dynamic city with plenty to offer local residents. Boulder has played an important role in the development of Central Colorado, and a number of businesses, educational centers, and cultural institutions operate in the area. Boulder has consistently ranked as one of the best cities to call home in the United States, contributing to the undeniable appeal of the city. Furthermore, the community sits just 25 miles northwest of Denver, making it easy for commuters to travel between both destinations for work and play.
Exploring the Boulder Cityscape
Boulder is notable for its stunning natural spaces and abundant recreational opportunities. The city sits in the foothills of the Rocky Mountains, and countless local parks and trails provide exposure to the great outdoors. Notable local landmarks include the University of Colorado Boulder, where over 30,000 students pursue academic degrees. Boulder also has a thriving economy, with gross product value of nearly $20 billion annually.
Community amenities include an expansive mass transit system, which provides convenient bus access to other communities across Central Colorado. Boulder also sits on the proposed Northwest Rail Line, which ultimately aims to link Denver to Longmont. This would further enhance the transportation services currently in operation.
Living in Boulder
With its abundance of economic activity and high quality of life, it comes as little surprise that so many people want to call Boulder home. The city has long operated under a unique management program that aims to stem population growth, however. Because of the various ordinances enacted under this management plan, new housing development in Boulder is extremely limited.
Home value in Boulder, Colorado has climbed quickly due to these growth limitations. Rentals in Boulder and the surrounding area are often priced a bit higher than properties in other parts of Central Colorado, a reflection of the high housing demand.
Using a Property Manager in Boulder
Partnering with a professional, experienced Boulder property management group is a savvy way to maximize the value of your local investment. At Dakota PM, we've helped countless local landlords to optimize their rental homes and reduce the stress associated with managing a property solo. Our team is well-versed in the challenges of operating a rental property, and we work diligently to keep our clients satisfied.
Unlike other property managers that use hidden fees and extra costs to pad their pockets, we offer flat-fee pricing and no contracts. In other words, you won't find yourself dealing with a complicated partnership that causes more problems than it solves. Isn't it time to experience a better approach to property management? We've maintained our A+ rating with the Better Business Bureau since 1987, and we consistently deliver quality results for our customers. That's a track record you can trust.
Ready to get started? Give us a call to learn how we can help with your Boulder home: (303) 759-4340
Why Choose Dakota Property Management?
Increase Your Income
Lowering vacancy rates and owner expenses is our job. Let us help you increase your income from your real estate investment and save you time and money all for a low flat rate.
Flexible Maintenance Options Save You Money
Many local owners want control over maintenance costs by using their own vendor contacts or doing the work themselves. Our state of the art management software allows owners to be involved in the maintenance approval process. Use your own vendors, do-it-yourself, or choose from our reputable vendor pool.
Our Flat Fee Pricing Makes Us Affordable
We don't work on a commission-based pricing structure. With our flat fee pricing of $115/month there's a significant savings over traditional management fees (typically 40%-60% savings). We offer affordable full-service property management.
You Won't Find a More Experienced Firm
Plenty of property managers make big promises, but our successful track record stretches back decades. We've maintained an A+ BBB rating since 1987, and three generations have kept our family-run business at the top of its class.
We Have the Happiest Clients
Our team works to guarantee satisfaction.
If you are looking for excellent customer service, high business ethic, and an overall excellent experience with a property management company look no further.
Dakota Property Management excels at treating all tenants, property owners and maintenance contractors involved as customers. All parties have accountability to their roles, with an overall very professional experience at a very fair cost. We have had horrible previous....
- Dan Rogers Wow-ed From the First Meeting
"Ann is honest, upfront and willing to work with owners. I am constantly impressed with how easy it has been working with Ann regarding my rental property."
 - Bonnie F. Quick & Attentive Responses
"I have worked closely with Jason Reed and her team recently and I truly believe they are revolutionizing the property management industry with their flat rate fees."
 - Shelby F.
Comprehensive answers to your property needs.
Tell us About Your Property
Wondering if we can help? Get started today: